Beverage
Food
Music
Sports
meny
Välkommen att ta en titt på vår meny!
Starters
Toast Skagen 119:-
A fresh skagen on toast, served with a mild seaweed caviar
Toast Chevré 119:-
Grilled chevré served on toast, with chrispy wainuts and sweet honey, small salad on the side
Salads
Cesar Salad 189:-
A classic with chicken, croutons, bacon, parmesan and cesardressing
Shrimp salad 189:-
A great salad with hand peeled  shrimp, served with a boiled egg and mayonnaise
Greek salad 189:-
Olives, feta cheese, crispy salad. Just plain and simple, Yummy!
Side salad 49:-
For those who want a little more food, or want to avoid those carbs
MAIN COURSES
Roasted racks of lamb 219:-
Garlic stuffed racks, seasoned with tandori and lime, we roast them to perfection, french fries and tzatziki
Fish & Chips 189:-
Breaded cod, deep fried, servec with french fries and a remoulade sauce
Cured Salmon with dill potatoes 219:-
Cured salmon in a rosette serving. Comes with dill cream boiled potatoes and crispy salad
Club sandwich 198:-
Chrispy bread, chicken, lettuce, onions, tomatoes, mayonnaise, fried egg
and crispy salad
Chicken Skewers 189:-
Chicken skewers, dip sauce and
French fries
American cheese & bacon burger 179:-
Brioche bread, minced chuck steak, lettuce, fressing, onions, tomatoes, cheese and crispy bacon incl. fries
Chicken burger 179:-
Deep fried chicken, lettuce, onions, tomatoes, chipotle and crispy french fries
Halloumi burger 179:-
Fried halloumi, lettuce, onions, tomatoes, chipotle, and crispy french fries
Vegan Burger 179:-
Gluten free bread, salad, vegan dressing, tomatoes, onions and french fries
Vegetarian pasta 179:-
*Pasta with tomato sauce, vegetables, mushrooms, parmesan and pesto*
Dips 10:-
Bearnaise, remoulade, salsa, chili, chipotle, mayonnaise, aioli, tzatziki, BBQ, sour Cream
DESSERT
Mud pie 79:-
A choco mud pie with whipped fluffy cream and chocolate sauce
Ice cream 79:-
Vanilla or strawberry. choose your topping; chocolate or caramel
BAR MENU
Nachos 159:-
Classic nachos with minced meat, salad, onions, cheese, topped with salsa and sour cream
Snacks bowl 129:-
Mozzarella sticks, chilli cheese, spicy chicken wings, french fries and a dip sauce of your choise
French fries 59:-
French fries and a dip sauce of your choise
Snacks 39:-
Choose between peanuts, olives or chips
IN CASE OF ALLERGIES, ASK THE STAFF.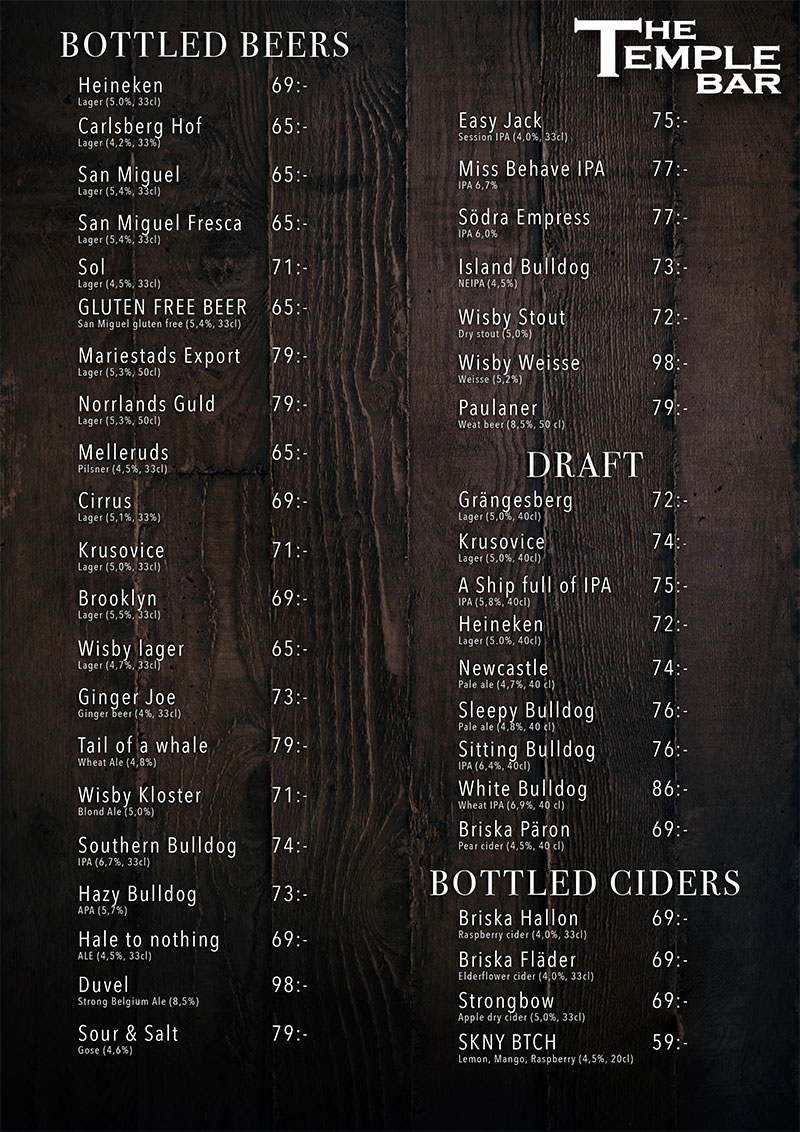 Dryckesmeny PDF
Boka bord?
Tel: 08-204 048
info@thetemplebar.se